Introduction to Abu Dhabi
Welcome to the vibrant and luxurious city of Abu Dhabi, where opulence meets modernity. Nestled on the stunning shores of the Arabian Gulf, this cosmopolitan metropolis offers a lifestyle like no other. Whether you're a young family looking for more space or an investor seeking a lucrative opportunity, owning a 3 bedroom villa in Abu Dhabi is undoubtedly the epitome of luxury living. With its blend of world-class amenities, breathtaking views, and prestigious locations, it's no wonder that these properties are highly sought after. We will explore why choosing a 3 Bedroom Villas for sale in Abu Dhabi could be your ticket to refined living and discuss everything you need to know before making this significant investment decision. So let's dive into the world of extravagance and discover what awaits you in Abu Dhabi!
Why choose a 3 bedroom villa?
Why choose a 3 bedroom villa? Well, there are several reasons why this type of property may be the perfect choice for you and your family. First and foremost, a 3 bedroom villa offers ample space for everyone to have their own private sanctuary while still enjoying common areas where you can come together as a family.
Having three bedrooms also provides flexibility – perhaps you need an extra room for guests or want to set up a home office. With a 3 bedroom villa, you have the freedom to use the additional space in whatever way suits your needs best.
Another advantage of choosing a 3 bedroom villa is that it typically comes with its own private outdoor area. This means you can enjoy some fresh air and create your own little oasis right at home. Whether it's having morning coffee on the patio or hosting barbecues with friends, having outdoor space adds another layer of enjoyment to your living experience.
In addition, many 3 bedroom villas offer access to community amenities such as swimming pools, gyms, playgrounds, and parks. These shared facilities provide opportunities for recreation and socializing without having to leave the comfort of your neighborhood.
So if you're looking for a spacious home that offers versatility in how it can be used, along with access to outdoor space and community amenities – then choosing a 3 bedroom villa in Abu Dhabi might just be the perfect option for you!
Featured
Gardenia Bay, Yas Island, Abu Dhabi
Beds:

Studio to 3BR

473,612 to 1,937

sqft

Apartment
Details
Featured
Sea La Vie, Yas Island, Abu Dhabi
Beds:

1-4 BR Apartments, 3-4 BR Townhouses

1,011 to 3,669

sqft

Apartment, Townhouse
Details
Featured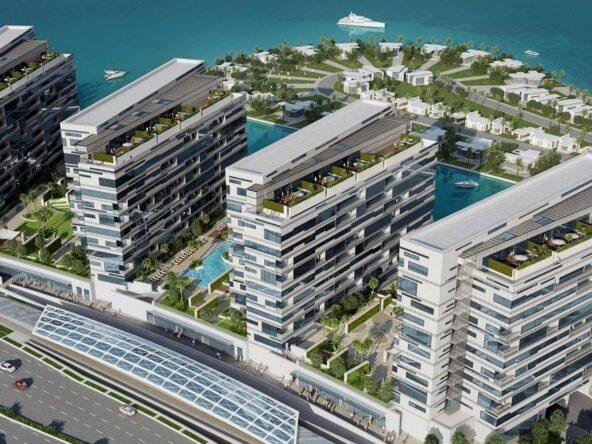 Lamar Residences, Al Seef, Al Raha Beach
Beds:

From 1 to 4

870 - 5,040

sqft

Apartment, Duplex, Townhouse
Details
Featured
Renad Tower, Al Reem Island, Abu Dhabi
Details
Featured
Featured
The Marina, Abu Dhabi
Beds:

From 1 to 4

1,077 to 3,236

sqft

Apartment
Details
Benefits of living in a villa
Living in a villa offers numerous benefits that make it an attractive option for many people. One of the main advantages is the spaciousness and privacy that villas provide. With three bedrooms, you have ample room to accommodate your family and guests comfortably.
Villas also often come with outdoor spaces such as gardens or private pools, allowing you to enjoy the outdoors and entertain guests without leaving your home. This provides a sense of tranquility and relaxation that can be hard to find in other types of properties.
Another benefit is the sense of community that comes with living in a villa complex. Many villas are part of gated communities or compounds, which offer security features and shared amenities like parks, playgrounds, gyms, or even sports facilities. This creates opportunities for socializing with neighbors while still maintaining your privacy.
Furthermore, villas are usually located in prime residential areas within Abu Dhabi. These locations often boast excellent infrastructure and access to schools, hospitals, shopping centers, restaurants, and recreational facilities.
In terms of investment potential, villas tend to hold their value well over time due to their desirable location and high demand from buyers looking for spacious homes for their families.
Living in a villa provides a unique lifestyle experience combining space, privacy,
and community living all in one package.
Top locations for 3 bedroom villas in Abu Dhabi
Abu Dhabi, the thriving capital city of the United Arab Emirates, is known for its luxurious and stunning properties. If you're in the market for a 3 bedroom villa in this vibrant city, you'll be spoiled for choice when it comes to top locations.
One of the most sought-after areas for 3 bedroom villas is Saadiyat Island. This exclusive island offers a serene and upscale lifestyle with beautiful beaches, world-class golf courses, and cultural attractions like the Louvre Abu Dhabi.
Another popular location is Al Raha Gardens, which boasts modern and spacious villas surrounded by lush greenery. Residents here can enjoy access to excellent schools, shopping centers, and recreational facilities.
For those seeking waterfront living with breathtaking views, Yas Island is an ideal choice. Home to Ferrari World Abu Dhabi and Yas Marina Circuit, this vibrant destination offers entertainment options galore along with stunning residential properties.
If you prefer a more tranquil setting away from the hustle and bustle of the city center, consider Al Reef Villas. Located on the outskirts of Abu Dhabi City, this community offers affordable luxury with landscaped gardens and family-friendly amenities.
No matter which location you choose for your 3 bedroom villa in Abu Dhabi, rest assured that you'll find yourself in a prestigious neighborhood surrounded by modern conveniences and a high standard of living. So start exploring these top locations today!
Amenities and features to look for in a villa
When searching for a 3 bedroom villa in Abu Dhabi, it's important to consider the amenities and features that will enhance your lifestyle. Here are some key things to look for:
1. Spacious living areas: A villa should offer plenty of room for you and your family to relax and entertain guests. Look for open floor plans, large bedrooms, and ample living spaces.
2. Outdoor space: Abu Dhabi's warm climate makes outdoor living a must. Look for villas with private gardens or landscaped yards where you can enjoy barbecues, gardening, or simply soaking up the sun.
3. Modern kitchen: If you love cooking or entertaining, a well-equipped kitchen is essential. Look for high-quality appliances, plenty of storage space, and a functional layout.
4. Parking facilities: Many villas in Abu Dhabi come with covered parking spaces or garages. This is especially important if you have multiple vehicles or expect frequent visitors.
5. Community amenities: Depending on the location of your villa, there may be additional amenities available such as swimming pools, gyms, parks, playgrounds, and sports facilities that can add convenience and enjoyment to your daily life.
Remember to prioritize what matters most to you when considering these amenities and features in order to find the perfect 3 bedroom villa in Abu Dhabi that suits your needs!
Budget considerations and financing options
Budget considerations and financing options play a crucial role when it comes to buying a 3 bedroom villa in Abu Dhabi. It's important to determine your budget beforehand, as this will guide your search and help you narrow down the available options. Consider factors such as mortgage rates, down payment requirements, and monthly installments.
Financing options are plentiful in Abu Dhabi, with various banks offering home loans tailored to meet different needs. Research different lenders and compare their terms and interest rates to find the most suitable option for you. Keep in mind that additional costs may arise during the purchasing process, such as property registration fees, agent commissions, and maintenance charges. Be sure to factor these into your budget planning.
It's advisable to seek professional advice from a financial advisor or mortgage broker who can guide you through the financing process and help you make informed decisions based on your specific circumstances.
Remember that buying a 3 bedroom villa is an investment in both lifestyle and future potential appreciation. Take the time to assess your financial situation carefully before making any commitments.
Tips for buying a 3 bedroom villa in Abu Dhabi
When it comes to buying a 3 bedroom villa in Abu Dhabi, there are several factors that you should consider. First and foremost, do your research. Take the time to explore different areas of the city and determine which location suits your lifestyle and preferences.
Next, set a budget for yourself. Determine how much you can afford to spend on a villa and stick to it. This will help narrow down your options and ensure that you don't overspend.
Consider the amenities and features that are important to you. Are you looking for a swimming pool? A garden? A gym? Make a list of must-haves so that you can prioritize what is most important to you.
It's also essential to work with a reputable real estate agent who specializes in villas in Abu Dhabi. They will have extensive knowledge of the market and can guide you through the buying process.
Before making any final decisions, visit potential properties in person. This will give you a better sense of the space, layout, and overall condition of the villa.
By following these tips, you'll be well-prepared when it comes time to buy your dream 3 bedroom villa in Abu Dhabi!
Conclusion: Is a 3 bedroom villa the right choice for you?
When it comes to finding your dream home in Abu Dhabi, there are plenty of options to choose from. However, if you're looking for a spacious and comfortable living space that offers both privacy and convenience, a 3 bedroom villa might be the perfect fit for you.
With ample room for your family and guests, a 3 bedroom villa provides the ideal balance between space and functionality. Whether you have children who need their own bedrooms or simply desire extra space for a home office or gym, these villas offer versatility that can meet your specific needs.
Living in a villa also comes with its fair share of benefits. Privacy is undoubtedly one of them – with no shared walls or neighbors directly above or below you, you can enjoy peace and tranquility within your own four walls. Additionally, many villas come with private gardens or outdoor spaces where you can relax amidst nature's beauty.
Abu Dhabi boasts several top locations where you can find exceptional 3 bedroom villas. From luxurious beachfront properties on Saadiyat Island to vibrant communities like Al Raha Gardens and Yas Acres offering an array of amenities such as parks, pools, sports facilities, and schools – there is something to suit every lifestyle.
When searching for your dream villa in Abu Dhabi, consider the amenities and features that are important to you. Look out for properties with well-designed interiors featuring modern kitchens, spacious living areas with natural light flowing through large windows, en-suite bathrooms in each bedroom for added convenience, as well as parking spaces and access to community facilities such as gyms or swimming pools.
Budget considerations are crucial when buying any property. It's essential to set realistic expectations based on your financial situation while taking into account additional costs like maintenance fees or association dues associated with owning a villa. Exploring financing options early on will help ensure smooth sailing throughout the buying process.
Before making any final decisions, here are a few tips to keep in mind. Do thorough research