Introduction to Abu Dhabi
Welcome to the vibrant city of Abu Dhabi, where luxury living meets unparalleled beauty. Nestled along the sparkling Arabian Gulf, this bustling metropolis offers a lifestyle like no other. If you're in search of opulence and spaciousness, then look no further than 5 bedroom villas for sale in Abu Dhabi. These exquisite properties not only provide ample space for families but also boast stunning architecture and world-class amenities. Whether you're a local resident or an expatriate looking to settle down in this cosmopolitan paradise, owning a 5 bedroom villa in Abu Dhabi is truly a dream come true. Get ready to explore the benefits, top locations, features, and factors to consider when purchasing your very own slice of heaven!
Featured
Gardenia Bay, Yas Island, Abu Dhabi
Beds:

Studio to 3BR

473,612 to 1,937

sqft

Apartment
Details
Featured
Sea La Vie, Yas Island, Abu Dhabi
Beds:

1-4 BR Apartments, 3-4 BR Townhouses

1,011 to 3,669

sqft

Apartment, Townhouse
Details
Featured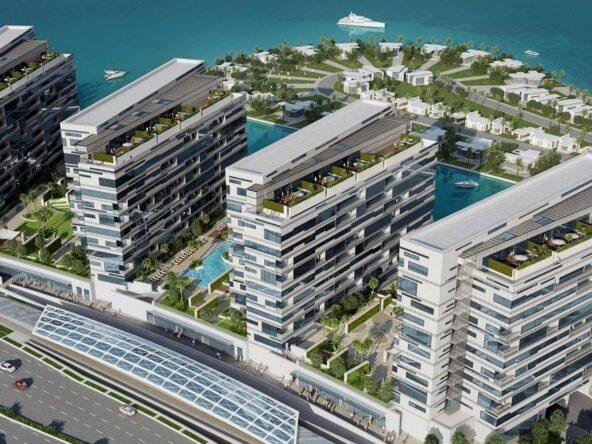 Lamar Residences, Al Seef, Al Raha Beach
Beds:

From 1 to 4

870 - 5,040

sqft

Apartment, Duplex, Townhouse
Details
Featured
Renad Tower, Al Reem Island, Abu Dhabi
Details
Featured
Featured
The Marina, Abu Dhabi
Beds:

From 1 to 4

1,077 to 3,236

sqft

Apartment
Details
The Benefits of Owning a 5 Bedroom Villa in Abu Dhabi
Abu Dhabi, the capital city of the United Arab Emirates, offers a luxurious and opulent lifestyle that is unmatched. Owning a 5 bedroom villa in Abu Dhabi comes with numerous benefits that make it an ideal investment.
Space is never an issue when it comes to these grand villas. With five bedrooms, you have ample room for your family members and guests. You can design each room according to your preferences and create personalized living spaces.
In addition to the generous amount of space, owning a 5 bedroom villa also provides you with privacy and exclusivity. Unlike apartment living where you share walls with neighbors, these villas offer seclusion and tranquility. You can enjoy your own private garden or swimming pool without any disturbances.
Moreover, Abu Dhabi is known for its world-class amenities and facilities. Many of these 5 bedroom villas are located in prestigious communities that offer top-notch security systems, recreational areas, fitness centers, and even access to golf courses or private beaches.
Furthermore, investing in a 5 bedroom villa in Abu Dhabi ensures long-term financial stability. The real estate market in this thriving city continues to grow steadily year after year. By purchasing a property now at today's prices, you have the potential for significant appreciation over time.
Lastly but certainly not least important is the prestige that comes with owning such a property in Abu Dhabi – it showcases your success and status within society while providing unparalleled comfort for you and your family.
Owning a 5 bedroom villa in Abu Dhabi brings forth various advantages including spaciousness,
privacy & exclusivity , access to world-class amenities & facilities ,
financial stability as well as prestige within society
Top Locations for 5 Bedroom Villas in Abu Dhabi
Abu Dhabi, the capital city of the United Arab Emirates, offers an array of luxurious 5 bedroom villas that are sure to impress even the most discerning buyers. With its stunning architecture, world-class amenities, and vibrant lifestyle, Abu Dhabi has become a sought-after destination for those looking to invest in real estate.
One of the top locations for 5 bedroom villas in Abu Dhabi is Saadiyat Island. Known for its pristine beaches and cultural attractions such as the Louvre Abu Dhabi and Guggenheim Abu Dhabi, Saadiyat Island offers a unique blend of luxury living and cultural experiences.
Another popular area is Yas Island, home to iconic landmarks like Ferrari World and Yas Marina Circuit. This waterfront community boasts exclusive residential developments with breathtaking views and access to world-class entertainment options.
For those seeking a more serene environment, Al Raha Beach is an excellent choice. With its tranquil waterfront promenade and lush green spaces, this community offers a peaceful retreat while still being close to essential amenities.
Al Reef Villas is another top location known for its family-friendly atmosphere. This gated community features spacious 5 bedroom villas surrounded by landscaped gardens, playgrounds, swimming pools, and sports facilities.
Lastly but not leastly,luxury seekers may consider Al Maryah Island which offers high-end residential properties with panoramic views of the Arabian Gulf or skyline views from towering skyscrapers
No matter which location you choose in Abu Dhabi,you can expect premium finishes,luxurious interiors,and world-class facilities that cater to your every need
Features and Amenities of 5 Bedroom Villas in Abu Dhabi
When it comes to 5 bedroom villas in Abu Dhabi, you can expect a luxurious and comfortable living experience. These spacious properties offer an array of impressive features and amenities that cater to the needs and desires of discerning homeowners.
These villas boast expansive floor plans with ample space for large families or those who enjoy hosting guests. With five bedrooms, everyone can have their own private sanctuary within the home. The bedrooms are often accompanied by en-suite bathrooms, ensuring convenience and privacy for all residents.
In addition to the generous living areas, these villas often come equipped with state-of-the-art kitchens featuring high-end appliances and modern finishes. Cooking enthusiasts will appreciate the well-designed layouts that make meal preparation a breeze.
Outdoor spaces are also a highlight of many 5 bedroom villas in Abu Dhabi. Whether it's a landscaped garden, private swimming pool or rooftop terrace offering stunning city views, there is no shortage of options for outdoor relaxation and entertainment.
For those seeking recreational activities without leaving the comfort of their home, some villas may include amenities such as gyms, spas or home theaters. These extra touches elevate the overall living experience and provide endless opportunities for leisure time enjoyment.
Furthermore, security is paramount in these upscale communities. Many 5 bedroom villas feature gated entrances with round-the-clock security personnel to ensure residents feel safe at all times.
Owning a 5 bedroom villa in Abu Dhabi grants access to an opulent lifestyle filled with luxurious features and amenities that enhance everyday living. It's no wonder why these properties are highly sought after by individuals looking to indulge in ultimate comfort and prestige.
Factors to Consider When Buying a 5 Bedroom Villa in Abu Dhabi
Location is one of the key factors to consider when buying a 5 bedroom villa in Abu Dhabi. Are you looking for a waterfront property with stunning views or do you prefer a more secluded and peaceful neighborhood? It's important to choose a location that suits your lifestyle and preferences.
Another factor to consider is the size and layout of the villa. Do you need spacious bedrooms, multiple living areas, or an outdoor space for entertaining? Make sure the villa meets your specific requirements and provides enough space for your family to comfortably live and grow.
Additionally, it's essential to evaluate the amenities available in the surrounding area. Is there easy access to schools, hospitals, supermarkets, and recreational facilities? Having these amenities nearby can greatly enhance your quality of life and convenience.
Consider the security measures in place within the community where the villa is located. Gated communities with round-the-clock security provide peace of mind for homeowners.
Don't forget about budget considerations. Determine how much you are willing to spend on purchasing a 5 bedroom villa in Abu Dhabi while also factoring in additional costs such as maintenance fees and taxes.
By carefully considering these factors before making your purchase decision, you can ensure that buying a 5 bedroom villa in Abu Dhabi will be a wise investment that meets all your needs and desires.
Tips for Buying a 5 Bedroom Villa in Abu Dhabi
When you're ready to make the exciting investment of purchasing a 5 bedroom villa in Abu Dhabi, there are some important tips to keep in mind. These will help guide you through the process and ensure that you find the perfect property for your needs.
1. Set a budget: Before embarking on your search, it's crucial to determine your budget. This will help narrow down your options and prevent any financial strain later on.
2. Research locations: Take time to research different areas of Abu Dhabi where 5 bedroom villas are available for sale. Consider factors such as proximity to schools, amenities, transportation links, and future development plans.
3. Hire a reputable real estate agent: Working with an experienced real estate agent who specializes in luxury properties can greatly simplify the buying process and provide valuable insights into the market.
4. Inspect the property thoroughly: When viewing potential villas, be sure to inspect every aspect of the property carefully. Look out for any signs of damage or maintenance issues that may require attention.
5. Consider future resale value: While it's essential to choose a villa that meets your current needs, it's also wise to consider its potential resale value in case you decide to sell it in the future.
6. Review all legal documents: Before signing any contracts or agreements, review all legal documents related to purchasing the villa with due diligence. Seek professional advice if needed.
7. Financing options: Explore various financing options available when buying a 5 bedroom villa in Abu Dhabi. Compare interest rates and terms from different banks or lenders before making a decision.
8. Insurance coverage: Don't forget about insuring your new investment! Make sure you have adequate insurance coverage for both property damage and personal liability.
By following these tips, you'll be well-prepared to navigate the process of buying a 5 bedroom villa in Abu Dhabi successfully. Remember to take your time, do thorough research, and seek professional advice when